2022 Xhorse VVDI Key Tool Max PRO Combines Key Tool Max and Mini OBD Tool Functions Adds Voltage and Leakage Current Functions
Combines functions of Key Tool Max and Mini OBD Tool
Comes with integrated CANFD for GM vehicles and All in One
Adds battery voltage measurement, and leakage current measurement
2022 Xhorse VVDI Key Tool Max PRO Remote Maker and Key Programmer

KEY TOOL MAX PRO is a professional all-in-one smart device with multi-function, Bluetooth and WIFI communication interface, which is convenient for connecting and controlling Xhorse key cutting machines. It supports various OBD functions such as vehicle diagnosis, IMMO program, throttle program, TPMS, and maintenance light reset.
Combines functions of Key Tool Max and Mini OBD Tool
Comes with integrated CAN FD for GM vehicles
Adds battery voltage measurement, and leakage current measurement
Supports Toyota H all keys lost with 8A AKL adapter
Control Xhorse Condor/Dolphin key cutting machines
2022 Xhorse VVDI Key Tool Max Pro remote maker and key programmer
The Xhorse Key Tool Max Pro comes with all the features of the existing Key Tool Max and has more functions than it.
Designed with locksmiths in mind this device has all the staple features of Xhorse's excellent VVDI Key Tool range including transponder cloning & generation, RF testing and remote renewal.
It also opens up the world of the Xhorse Super Chip and Xhorse Universal Remotes; increasing your vehicle coverage immensely.
Note: The product comes with an OBD cable which supports programming directly via the Key Tool Max Pro instead of buying a separate programmer. Moreover, the device receives power via OBD so you don't need to worry about power shortage during working.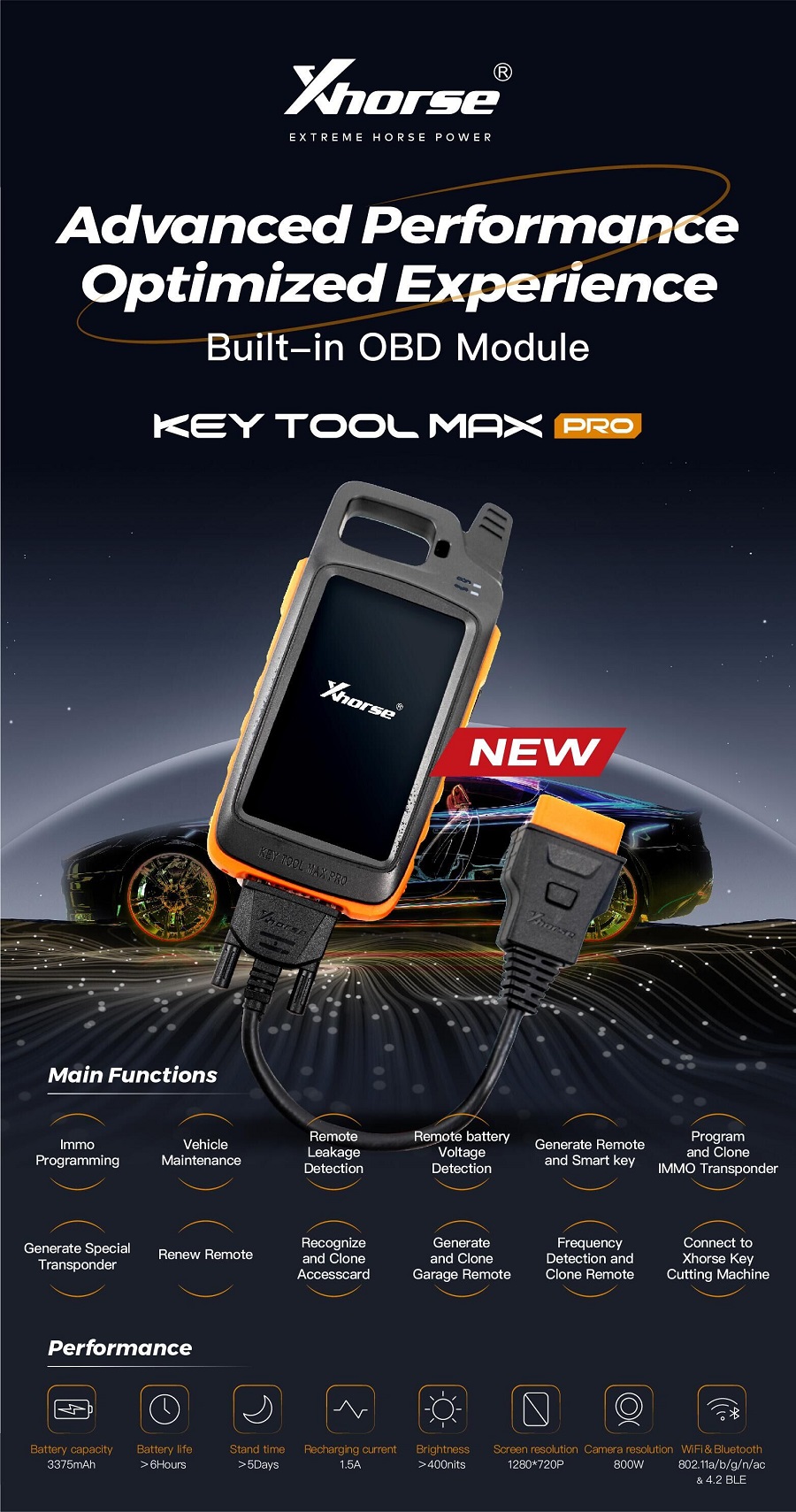 Immobilizer programming
Service reset
Generate remote
Clone remote
Generate transponder
Copy transponder
Generate special function
Unlock/Renew remote
Identity/Copy ID card
Generate/Copy garage remote
Detect frequency
Detect remote battery/voltage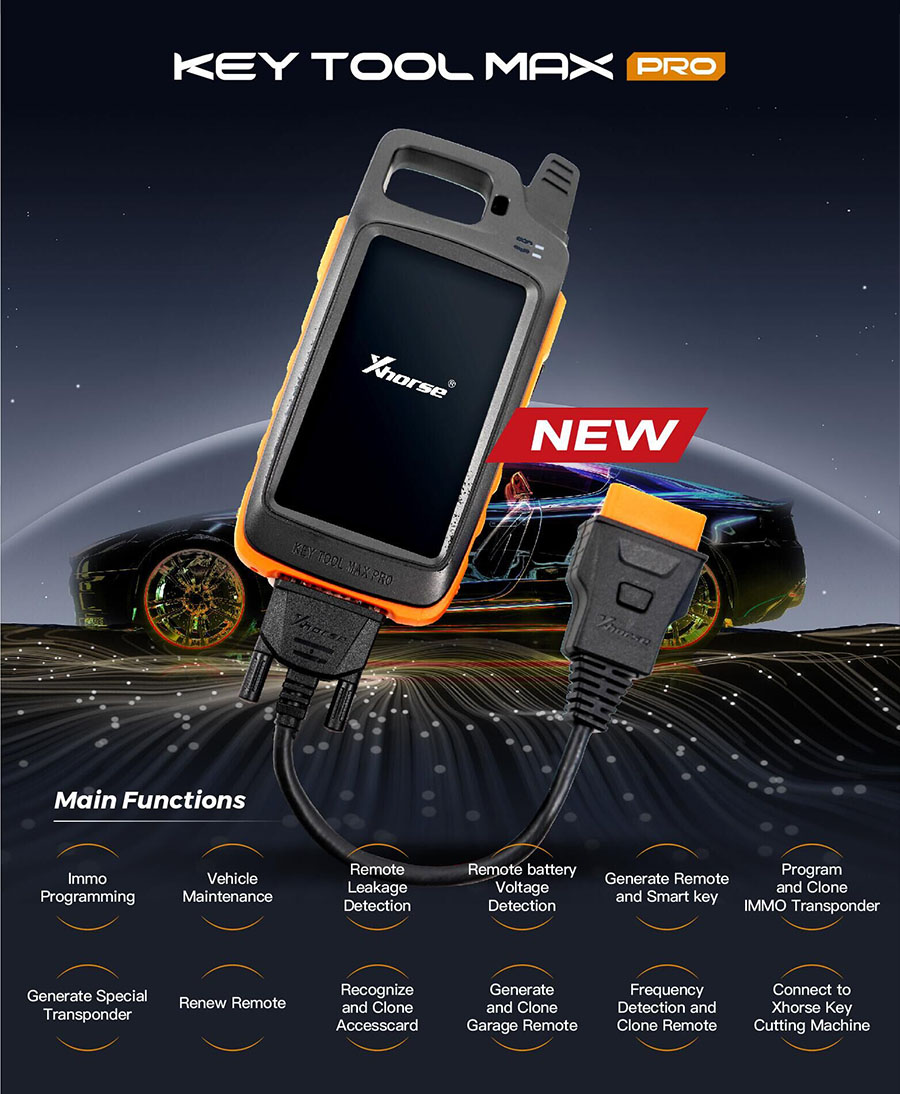 Xhorse VVDI Key Tool MAX PRO vs Key Tool Max
Item
Xhorse Key Tool Max

Xhorse Key Tool Max Pro

CPU
Quad core CPU
Quad core CPU
RAM
1G+8G
1G+8G
OBD module
External Mini OBD Tool
Built-in
CANFD module
No
Yes
OBD Power Supply
No, power by USB only
Power by OBD or USB cable
Battery Voltage Test
No
Yes

Software Comparison

Immobilizer programming
With Mini OBD
Built-in
Cadillac CT4/CT5 CAN FD
No
Yes
Buick GL8/ ENCLAVE CAN FD
No
Yes
Chevrolet Cavalier / Trax CAN FD
No
Yes
Service Reset
With Mini OBD
Yes, built-in
Generate remote (remote, smart card, Toyota XM remote, garage remote)
Yes
Yes
Copy remote
Yes
Yes
Identify/copy chip
Yes
Yes
Generate chip
Yes
Yes
File make key (Immo data tool)
Yes
Yes
Other special functions
Yes
Yes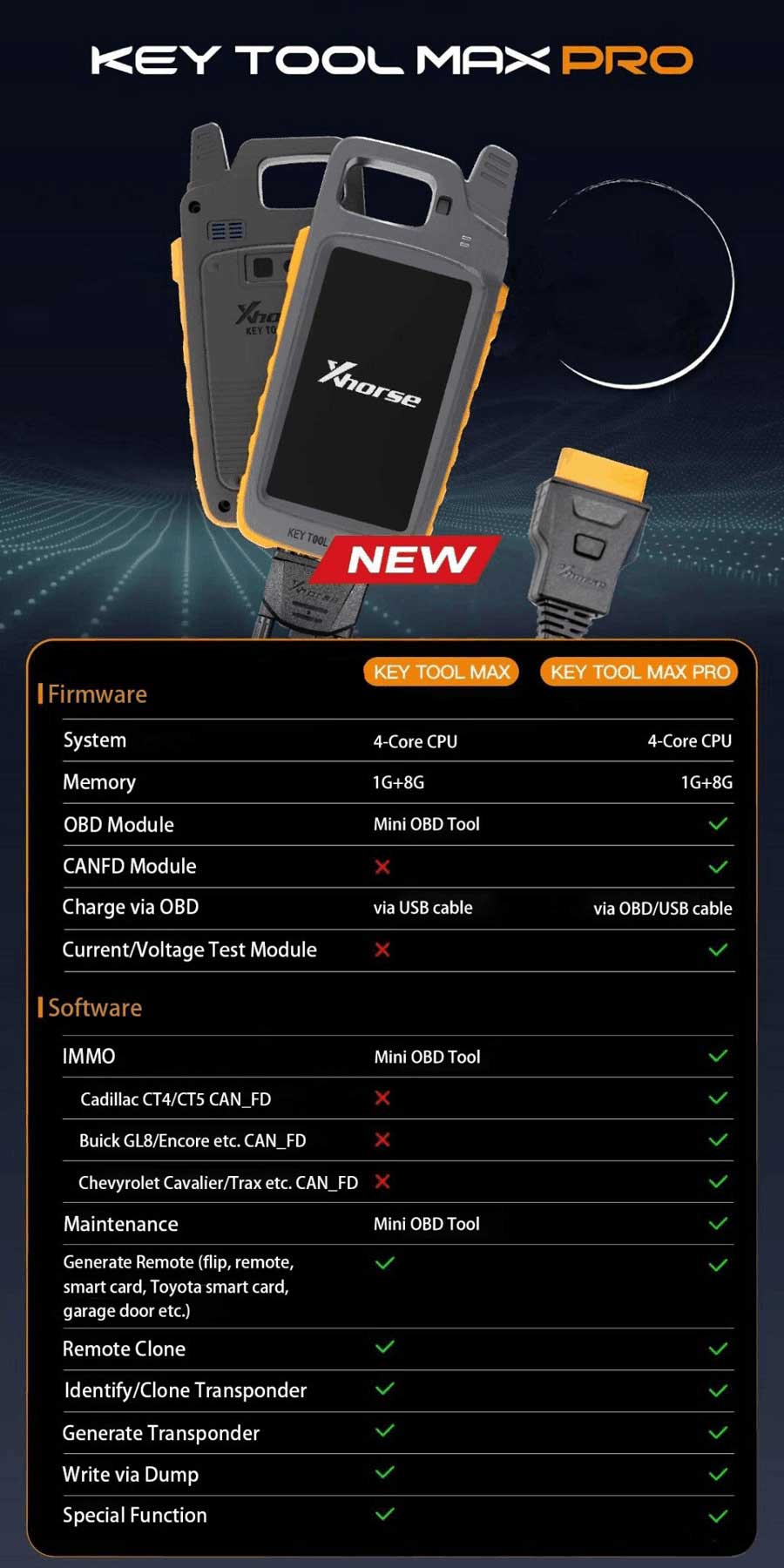 Product Specifications:
Battery: 3375mAh
Standby: >5 Days
Inoput: 1.5A
Light: >400nits
Screen Resolution: 1280*720P
Camera: 800W
WiFi& Bluetooth: 802.11a/g/g/n/ac & 4.2 BLE
1pc x KEY TOOL MAX PRO deivce
1pc x OBD to DB15 cable with light
1pc x Remote programming cable
1pc x Leakage detection cable
1pc x USB cable
1pc x User Manual