OBDSTAR X-100 PRO X100 Pro Auto Key Programmer (C) Type for IMMO and OBD Software Function Get EEPROM Adapter
OBDSTAR X-100 PRO Auto Key Programmer (C) Type
X-100 PRO English Version Configuration:
Configuration(C): IMMOBILISER+ OBD software
Top 8 Reasons to Get X-100 PRO Auto Key Programmer:
1. Original from OBDSTAR, Support EEPROM Function,now we have promotion to send EEPROM Adapter free, please don't miss


2. Free Update Online on Official Website for 1 Year, 85usd/year after 1 Year
3. Inherited the overall look of the original X - 100 +, changed the new silicone button, feel more comfortable
4. Adjusted the TF card slot position in mold, fit more tightly than previous generation, card plug will not go inside the machine
5. Software downloading speed is improved by more than 50%
6. New upgraded software operating system, added operating interactive prompt
7. High-capacity 4G TF card, more stable performance, never appear white screen
8. New design of PCB hardware, greatly improved configuration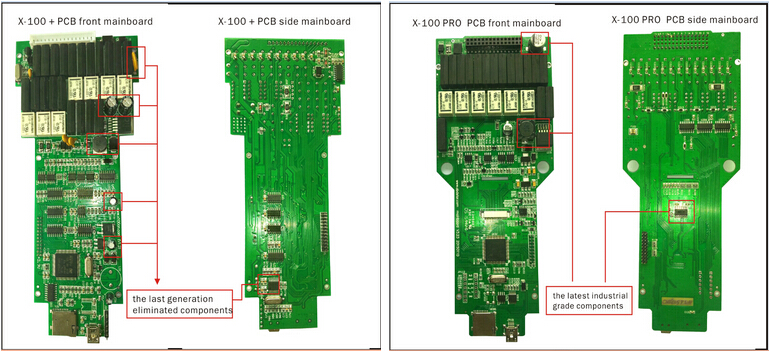 Notice:
1. Language:
English, Simplified Chinese, Traditional Chinese
2. Dealer Code:
860755B1
3. Configuration(C): IMMOBILISER+ OBD software
What's the difference between this OBDSTAR X100 and
XTOOL X100
?
1. OBDSTAR X100 can support EEPROM function, while XTOOL X100 can't
2. OBDStar X100 can't support Proton, while XTOOL X100 can
ACURA、AUDI、BAIC、BESTURN、BRILLIANE、BYD、CHANGAN、CHANGFENG、CHANGHE、CHERY、CHRYSLER、CITROEN、DFFENGSHEN、DFLZ、DS、FORD、GEELY、GM、GREATWALL、HAFEI、HNMAZDA、HONDA、HONGQI、HUAPU、HYUNDAI、INFINITI、JAC、JAGUAR、KIA、LANDROVER、LEXUS、LIFAN、LINCOLN、LUFENG、MAZDA、MG、MITSUBISHI、NISSAN、OPEL、PEUGEOT PORSCHE、QNLOTUS、RENAULT、ROEWE、SEAT、SKODA、SMART、SQYL、SSANGYONG、SUBARU、SUZUKI、TOYOTA、VW、ZZMAZDA、ZZNISSAN
And the more cars' software will be released.
Remark: including x-100+ all the matching function and add new software function in X-100 PRO.
Do not include Proton this car model
2. Reads keys from immobilizer's memory;
3. New immobilizer programming;
5. New mechanical key number programming;
6. Vehicle Identification Number programming;
7. Reset ECU&reset immobilizer;
8. Easy to operate by the guided menu programming;
9. New remote controller programming;
11. With full and strong database for the most important vehicle makes;
12. Upgradeable via web-based download;
1pc x X-100 RPO Main Unit
1pc x HYUNDAI/KIA-10 Connector
1pc x X-100 PRO User's Manual



OBDSTAR X100 pro IMMO & Remote Feedback:


Maruthi Suzuki key programming in 2 min , Hyundai I 20 key programming done , Hyundai verna fludic remote done in few seconds. Yes, it can do key lost and also u can add.

Honda cars,both making a spare and all key lost and remote programming,so far never failed.
-Mitsubishi Pajero 2014. All key lost OK.

Hyundai i 10 Key ok…

Hyundai i 10 remote ok .

Hyundai i 10 grand remote in 2 min ok

honda crv 2008 remote and key ok
jeep cherokee 2008 remote and key ok
mazda cx9 2009 smart key ok

Ford Eecosport 2015 Flip key programming ok…

Suzuki Ignis 2003 all lost key, programming new key OK.

Hyundai GETS 2007 KEY OK
HONDA ACCORD 2008 KEY AND REMOTE OK

Range rover sport hse 2012 start button , all key lost OK

2013 Elantra remote OK
2007 VW Rabbit add key and remote OK
2012 Town&County smart key OK
2002 Jetta add key FAIL (vehicle not supported msg, cant even read pin code)
2007 Quest add key OK
2008 Accord add key OK
2016 Subaru Forester add keys OK, remote program FAIL

Range rover sport 2007 add key ok
subaru outback 2008 add key ok
infinity fx 2009 smart key ok

Audi a4 2006 rb8 dash diesel engine read pin from ecu Ok

Mazda 2 2009 all ok job done in seconds

Tucson 2014 .. key and remote programing ok

GMC ACADIA 2008 CAN'T ADD KEY…YOU SHOULD DO ALL KEY LOST …. 12 MINUTES … JOB COMPLETE

ford raptor 2012 key programing ok at least 2 keys must have
ford expedition 2011 all key lost ok
accent 2012 key programing pin read ok
i10 2012 read pin and swap ecu (ecm neutrelize) ok all ok
prado txl and gx 2013 smart key programing ok \
prado 2012 ignition key programing ok \

-Good tool for Honda. transponder + smart even all keys lost.

-Nissan leaf,Xtrail both are ok

-Toyota Hilux add g chip key easily. did one for all keys lost with eeprom adapter too.

-Toyota innova key added Ok

-2010 Ford Ranger,4D63.. all key lost OK.

-Mitsubishi pagero 2012 yes
-Mazda cx9 2011 programmed smart key ok
- Renault v30.50 pin code read logan 2008 OK