Autel MaxiCOM MK908P Full System Diagnostic Tool Support ECU Coding, J2534 ECU Programming, Bi-directional Control - with 2 years free online update
The MaxiCOM MK908P Diagnostic Platform is an evolutionary smart solution for specialized automotive diagnosis. Utilizing the powerful A7 quad-core 1.30GHz processor, and a 10.1-inch capacitive touch screen, combined with the best possible coverage of OE-level diagnostics, and based on the revolutionary multitask-capable Android Operating system, the MaxiCOM organizes information with test instrumentation to help you diagnose symptoms, codes, and customer complaints easily, quickly and efficiently.
Top 5 Reasons to Get Autel MaxiCOM MK908P
1.Android 4.4.2,kitkat:A responsive operating system for speed up the repair work
2.Hexa-core Processor:1.3GHz Quad-core ARM Cortex-A7+Dual-core ARM Cortex-A15
3.10.1 inch LED Touch Screen:With 1920*1200 resolutions
4.8.0 Megapixel:Camera(rear):8.0 Megapixel,AF with Flashlight
5.15000mAh Battery:3.8V lithium-polymer battery
6.64GB Memory:2GB RAM & 64GB On-board Memory
Autel MaxiCOM MK908P Features:
1. Original Autel Brand tools
, High Quality and Powerful Functions
2. One Year Free Update Online
on Autel Official website.
3. Support ECU Coding and J2534 ECU Programming Functions
4. High-End Automotive Diagnostic Tool, Comprehensive OE-Level Diagnostics, Easily, Quickly and Efficiently
5. ECU PROGRAMMING:
The diagnostic tool comes with a free J2534 ECU programming device that helps Benz and BMW users replace the existing software/firmware in the ECU, program new ECUs and fix software-controlled driving performance and emission issues.
6. VEHICLE COVERAGE:
The software of MK908P has a wide range of compatibility and can be used to diagnose vehicles from over 80 brands in the US, Europe and Asia. Moreover, you can get more newly added car models with the fast-release software update service.
7. ADVANCED HARDWARE:
MK908P, as the advanced version of MS908P, features Hexa-Core processor upgraded from Quad-Core, Android4.4.2 OS upgraded from Android4.2, the 10.1" 1920*1200 screen upgraded from 9.7" 1024*769, and 15000mAh battery capacity increased by 4000mAh.
8. BI-DIRECTIONAL CONTROL:
The diagnostic tool supports bi-direction control to check the vehicle operating conditions. The bi-directional control of the ECM in Component Test enables the MK908P to transmit control commands to operate the vehicle systems.
9. ADDITIONAL SERVICE:
The automotive scanner is designed to serve users with a rich array of easy-to-use functions and features. The MaxiFix provides you with an online troubleshooter database, and Remote Desk allows you to get help from others via TeamViewer software.
10. Multiple Languages:
English, Spanish, French, German, Polish, Italian, Japanese, Korean, Dutch, Portuguese, Turkish, Swedish, Thai, Arabic, Russian
Autel MaxiCOM MK908 Functions List: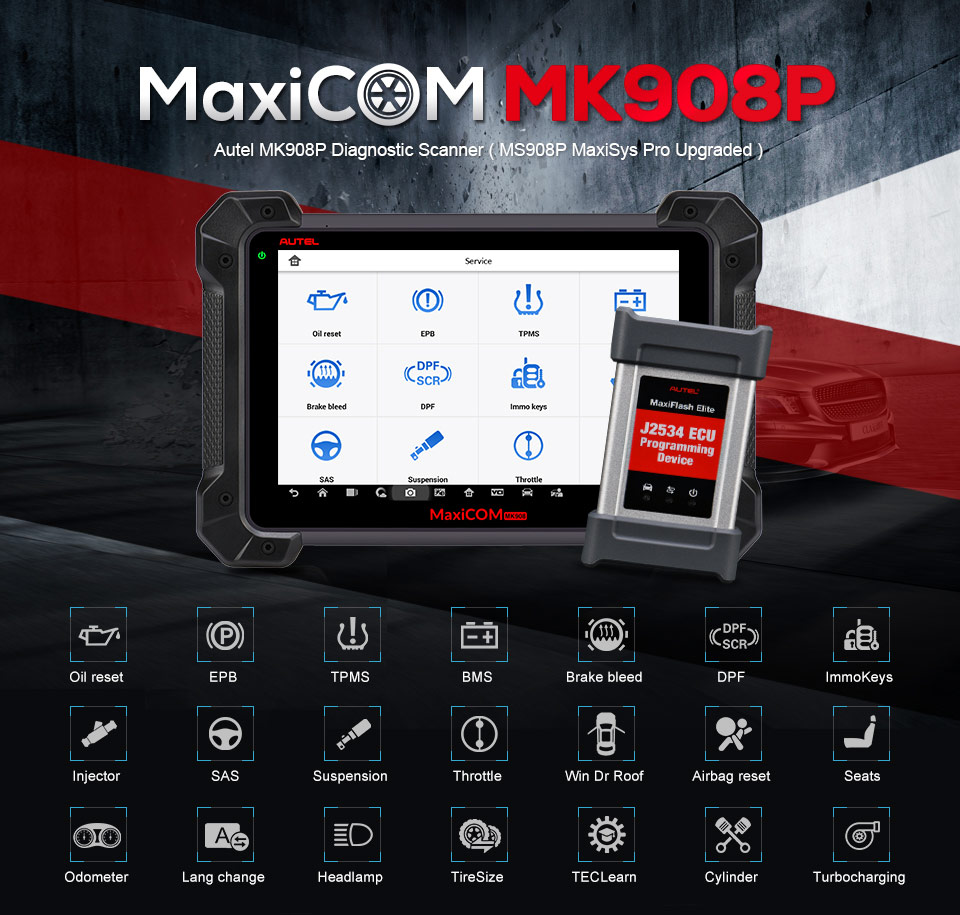 1. J2534 ECU Programming:
The diagnostic tool comes with a J2534 ECU programming tool (also used as a VCI box) that is a SAE J2534-1 & -2 compliant pass thru reprogramming interface device. Using the updated OEM software, it is capable of helping BMW and Benz users replace the existing software/firmware in the Electronic Control Units (ECU), program new ECUs and fix software-controlled drivability issues and emission issues. It supports BT and USB communications and can transmit vehicle data to the MaxiCOM display tablet with or without a physical connection.
2. There are 3 indicators on the J2534 ECU programming device:
1) Vehicle LED – Flashes green when communicating with the vehicle's system
2) Connection LED – Illuminates solid green when properly connected with the display tablet via the USB cable; Illuminates solid blue when connected with the display tablet via wireless (BT) connection
3) Power LED – Illuminates solid green when powered on: Flashes red when system failure occurs: Illuminates amber automatically at power up when the device is performing self-test procedure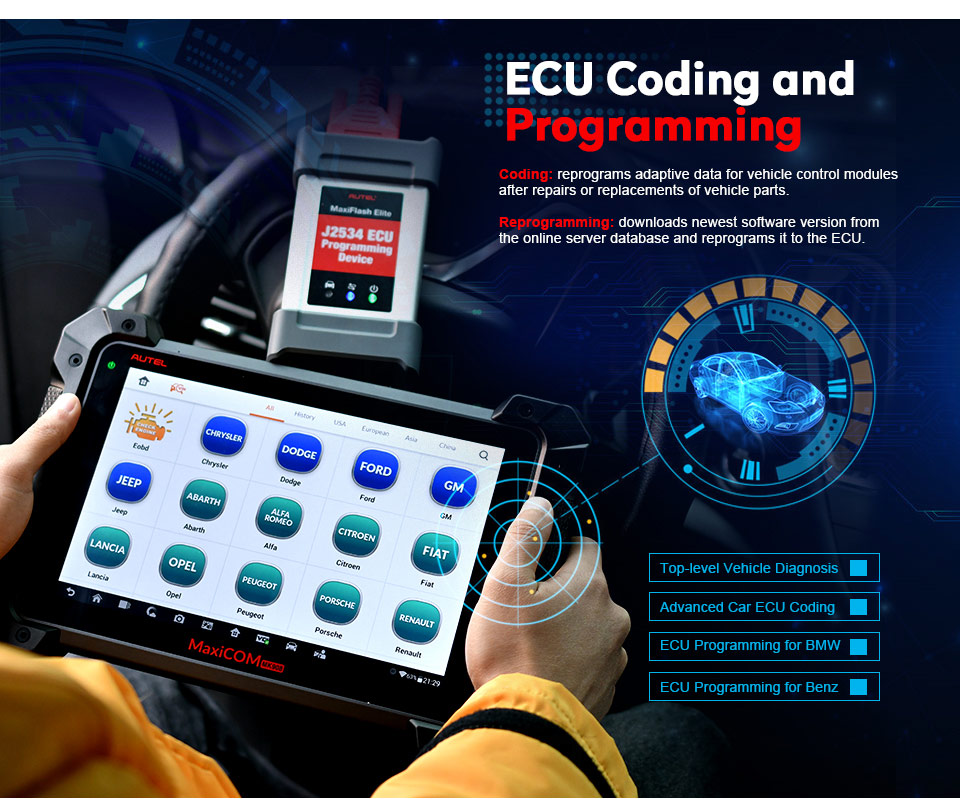 3. System Diagnostics
Simply accessing the diagnostic modes via AutoVin or Control Unit, and you' re able to perform diagnosis over all the systems on the vehicle' s ECU in order to locate fault systems and retrieve DTCs.
1) ECU Information – provides the retrieved ECU information in detail.
2) Read Codes – displays detailed information of DTC records retrieved from the vehicle control module.
3) Erase Codes – erases DTC records and other data from the ECM.
4) Live Data – retrieves and displays live data and parameters from the vehicle' s ECU.
5) Active Test – provides specific subsystem and component tests.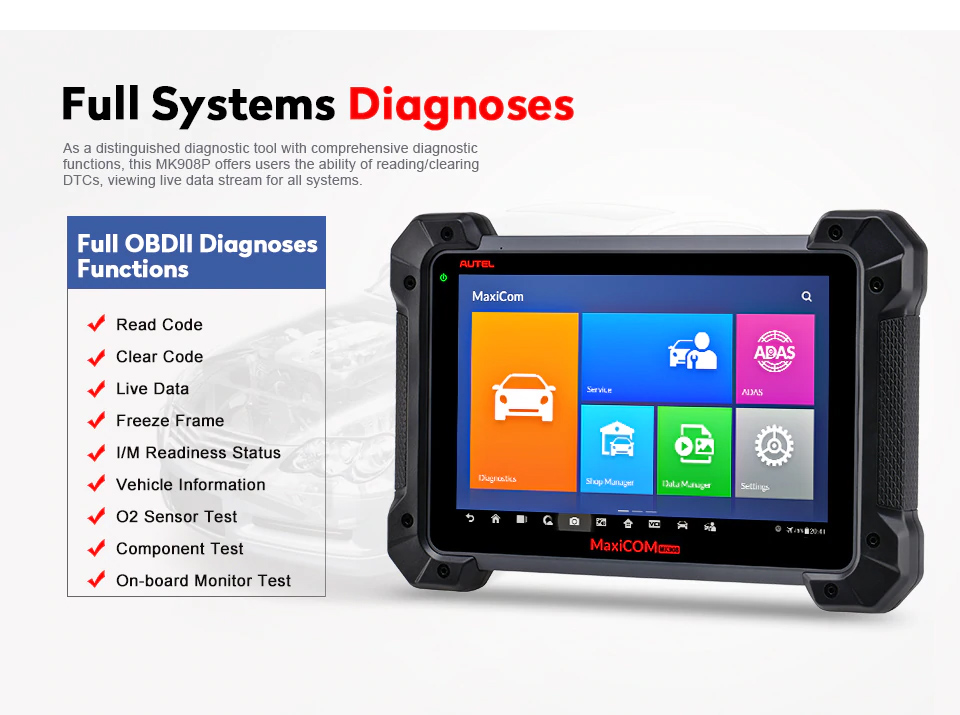 4. Accesses the Special Functions
The diagnostic tool is specially designed with the Service section to provide you with quick access to the vehicle systems for various scheduled service and maintenance performances. It provides component adaptation or variant coding functions for custom configurations and also allows you to reprogram adaptive values for certain components after making repairs. The most commonly performed service functions include:
1) Oil Reset Service:
Allows you to perform reset for the Engine Oil Life system, which calculates an optimal oil life change interval depend on the vehicle driving conditions and climate.
2) EPB Service:
Helps maintain the electronic braking system safely and effectively, deactivating and activating the brake control system, assisting with brake fluid control, opening and closing brake pads, and setting brakes after disc or pad replacement, etc.
3) SAS Service:
Allows you to perform calibration for the Steering Angle Sensor, which permanently stores the current steering wheel position as the straight-ahead position in the steering angle sensor EEPROM.
4) DPF Service:
Allows you to carry out numerous functions to the Diesel Particulate Filter system.
5) TPMS Service:
Allows you to quickly look up the tire sensor IDs from the vehicle' s ECU, as well as to perform TPMS programming and reset procedures after tire sensors are replaced.
6) IMMO Service:
Programs a new anti-theft key, and performs key matching when the ignition switch, the combined instrument panel, ECU, BCM, or the remote control battery is replaced.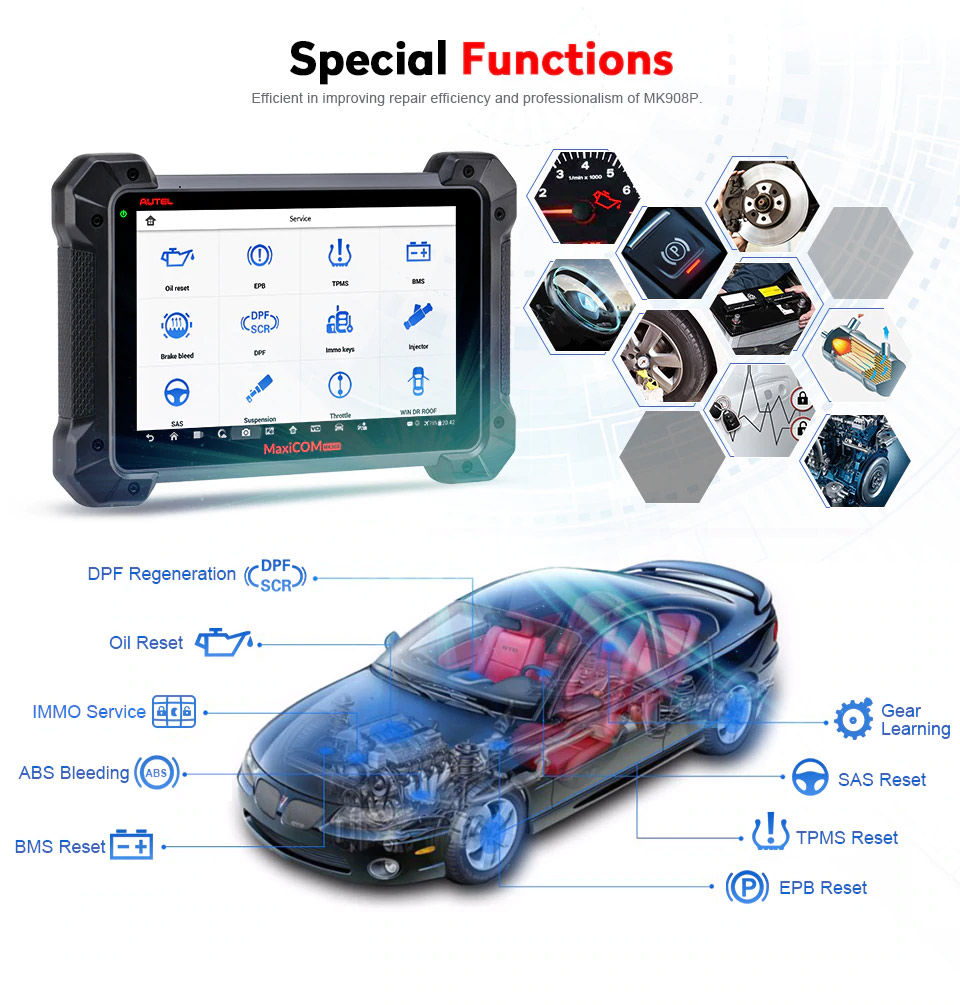 5. Coding:
The Coding function is used to re-flash the vehicle control modules, it allows you to update the computer software on the vehicle to the latest version, as well as to reprogram adaptive data for certain components after making repairs or replacements, providing ways for the issues of Drivability, Fuel Efficiency, Power Loss, Fault Codes, Durability of Mechanical Parts.
6. Additional Features and Functions
To well serve the users, the diagnostic tool is equipped with a rich array of features and functions in addition to the Diagnostic and Service functions, including Remote Desk, MaxiFix, Shop Manager, Digital Inspection,MaxiScope, etc.
1) Remote Desk:
With the simple, fast and secure remote control interface, you can receive ad-hoc remote support from Autel' s support center, colleagues, or friends, by allowing them to control your MaxiCOM tablet on their PC via the TeamViewer software.
2) MaxiFix:
This is an additional feature in the cloud which enables users to network and access a database of procedures, repair and diagnostic tools. You are able to interact with fellow technicians and share knowledge via MaxiFix.
3) Digital Inspection & MaxiScope:
The diagnostic scan tool can also be used in conjunction with the automotive oscilloscope Autel MP408 to perform electrical and electronic circuit testing and monitor signal activity, and it also supports performing a close vehicle inspection with the Autel digital inspection camera MV105/MV108.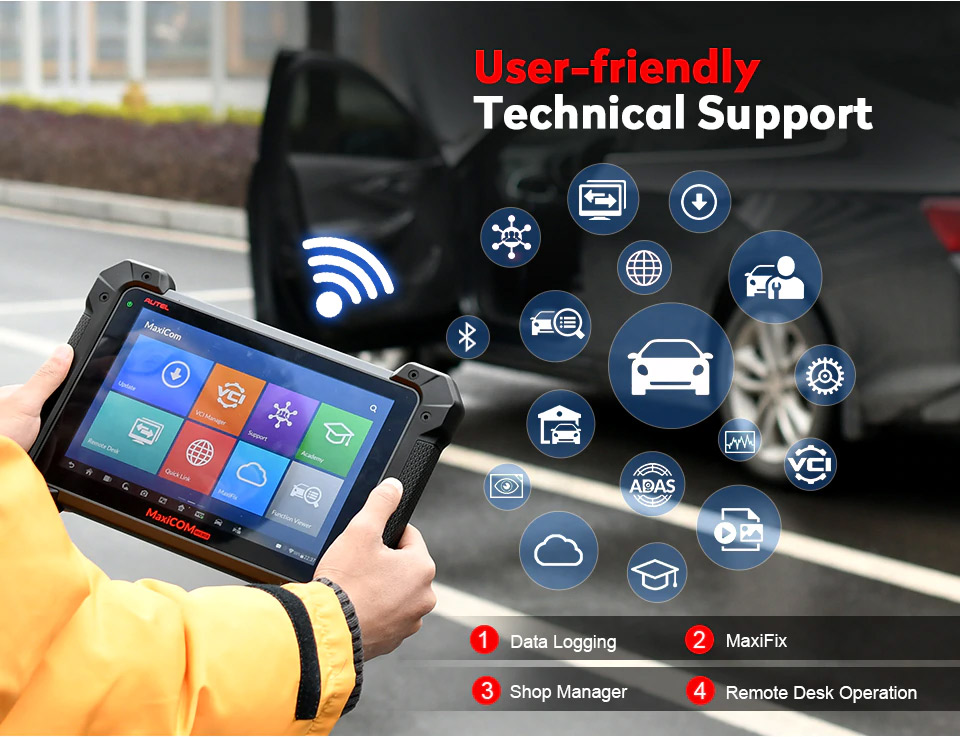 Autel MaxiCOM MK908 Support Vehicle Models List:
Chrysler, Dodge, Ford, GM, Jeep, Abarth, Alfa, Citroen, Fiat, Lancia, Opel, Peugeot, Porsche, Renault, Saab, Vauxhall, Volvo, Aston Martin, Audi, Bentley, Benz, Sprinter, BMW, Bugatti, Ferrari, Jaguar, Lamborghini, Land Rover, Maserati, Maybach, Mini, Rolls-Royce, Seat, Skoda, Smart, VW, VW CV, Dacia, Ford EU, LT3, Acura, Daewoo, Daihatsu, Honda, Hyundai, Hyundai CV, Infiniti, Kia, Lexus, Maruti Suzuki, Mazda, Mitsubishi, Nissan, Nissan GTR, Samsung, Scion, Ssang Yong, Subaru, Suzuki, Toyota, Isuzu, Mahindra, Perodua, Proton, TATA, HINO,UD, Fuso
Autel MaxiCOM MK908 Support
Protocols:
ISO 9142-2, ISO 14230-2, ISO 15765-4, K/L-Line, Flashing Code, SAE-J1850 VPW, SAE-J1850 PWM, CAN ISO 11898, High-speed, Middle speed, Low speed and Singlewide CAN, GM UART, UART Echo Byte Protocol, Honda Diag-H Protocol, TP 2.0, TP 1.6, SAE J1939, SAE J1708, Fault-Tolerant CAN
Autel MaxiCOM MK908P Vehicle List:
Chrysler,Dodge,Ford,GM,Jeep,Abarth,Alfa,Citroen,Fiat,Lancia,Opel,Peugeot,Porsche,Renault,Saab,Vauxhall,Volvo,Aston Martin,Audi,Bentry,Benz,Sprinter,BMW,Bugatti,Ferrar,Jaguar,Lamborghini,Land Rover,Maserati,Maybach,Mini,Rolls-Royce,Seat,Skoda,Smart,VW,VW CV,Dacia,Ford EU,LT3,Acura,Daewoo,Daihatsu,Honda,Hyundai,Hyundai CV,Infiniti,KIA,Lexus,Maruti Suzuki,Mazda,Mitsubishi,Nissan,Nissan GTR,sAMSUNG,Scion,Ssangyong,Subaru,Suzuki,Toyota,Isuzu,Mahindra,Perodua,Proton,TATA,HINO,UD,Fuso...
Differences Between Autel MK908P,MaxiSYS Elite,MaxiSYS MS908P,MaxiSYS MS908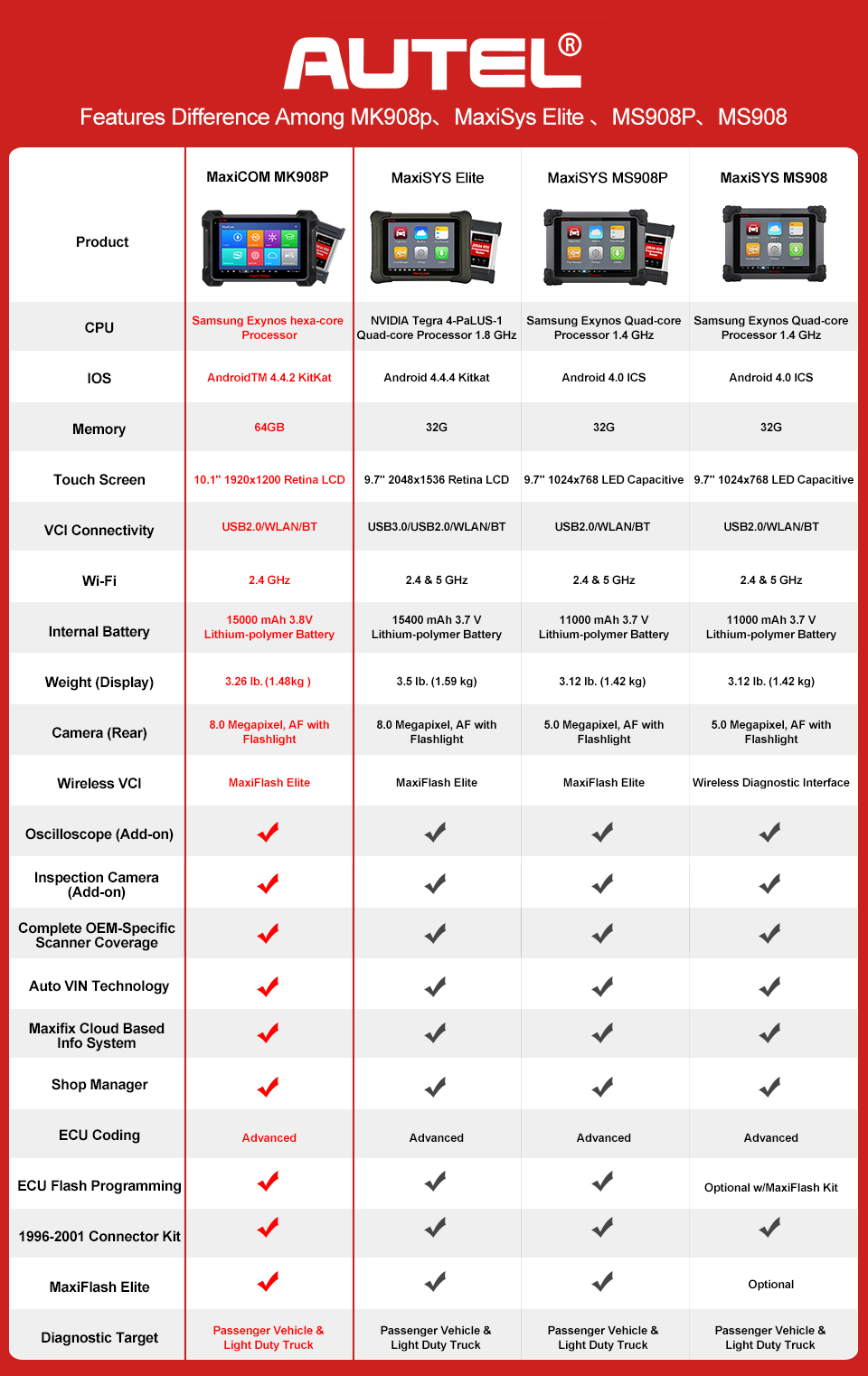 Autel MaxiCOM MK908P Software Update:
The Autel company frequently releases new versions of the software and engine code library that makes it compatible for newly launched vehicles. If any "Unknown" or "New Vehicle Found" error is reported, the custom software updates are made available to the users in time.
Autel MaxiCOM MK908 FAQs:
Q1:
Will it read and erase codes for a 2006 Chrysler?
A1:
It is Autel's latest member of its code reader family of tools, the AL529HD can not only diagnose OBDII/EOBD-compatible vehicles but also heavy duty vehicles utilizing SAE-J1939 and SAE-J1708 protocols. So if this car is OBDII compatible, it can work on it.
Q2
:Does MK908 device support truck diagnosis?
A2:
Yes, it is Autel's latest member of its code reader family of tools, the AL529HD can not only diagnose OBDII/EOBD-compatible vehicles but also heavy duty vehicles utilizing SAE-J1939 and SAE-J1708 protocols.
Q3:
Will this scan tool work with my honda civic 2000?
A3:
Hello, Autel AL529HD scan tool is designed to work with all OBDII compliant vehicles and Heavy-Duty Vehicles (J1939 and J1708), if your car comes with OBDII protocol, this device will work on your car. Any further question, feel free to contact us.
Autel MaxiCOM MK908 Specification
14 x OBDI Adapters (Benz-14; Chrysler-16; BMW-20; Kia-20; Nissan-14; GM/Daewoo-12; Honda-3; Fiat-3; PSA-2 Benz-38; VW/Audi-2+2; Mitsubishi/Hyundai-12+16)